Cox Communications Internet Outage 7/18/2017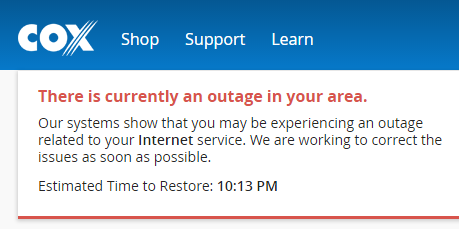 Widomaker's services are all up and running, at the present time. However, some folks who use Cox Communications for their Internet connection, in Hampton Roads, may be experiencing an Internet outage affecting their ability to open websites or check e-mail.
Normally we don't post announcements about other providers' service outages unless it affects Widomaker, directly. However, we have decided to make an announcement, due to the number of hosting and e-mail customers who may use Cox for their Internet connection. Some Cox customers might notice that, due to the Cox outage, they are unable to reach websites, including their hosted websites, or their e-mail servers, through their home or business Cox Internet connection.
If you use Cox for your Internet connection, in the local Hampton Roads area, and you have noticed trouble with your Internet connection, today, you might consider calling Cox Support to see if your location is part of the outage. Alternatively, you might check back in several hours to see if the Cox outage has been resolved. Cox Business Support can be reached by calling 757-369-6500. Residential Cox Support can be reached by calling 757-224-1111.
Some folks have reported that their Internet connection is working but DNS is not. DNS issues can look like a complete loss of connectivity. If you are unable to open any websites using their name (such as http://home.widomaker.com/), but are able to open sites using their numeric IP address (such as http://204.17.220.5/), then there is a DNS issue.
If you have determined you are affected by a Cox DNS issue, until the DNS issue is resolved, switching to an alternative DNS server, might restore your Internet access. Two popular public DNS providers include Google Public DNS, and OpenDNS. Instructions to use one of these alternative DNS providers can be found at the below links…
If you don't feel comfortable changing the DNS settings on your router or computers then the alternative is to simply wait until the outage is resolved.