Google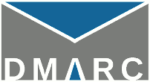 Starting in 2024, Google, Yahoo, and others, will soon require that DMARC, SPF, and DKIM, be properly set up on your domain name, if you will be sending email, from your email domain, to them. DMARC, SPF, and DKIM, help authenticate email senders by verifying that the emails came from the domain that they claim to be from.
You can check your domain name, to see if DMARC has already been set up, by using this DMARC Check tool.
Contact us, to set up an appointment, to review your domain, and make sure DMARC is properly set up, so you don't have trouble sending email to those providers beginning in 2024.