On, October 2, 2017, vulnerabilities (US-CERT VU#973527) were made public, by Google's security team, in Dnsmasq, a widely used software package included in many Internet-connected devices, such as routers, IoT devices, and Android devices. Exploitation of some of these vulnerabilities may allow a remote attacker to take control of an affected system.
Beginning on, Monday, October 9th, 2017, Widomaker's telephone sales and support hours will change as follows:
10:00am – 6:00pm, Monday – Friday*
Closed Saturday (On Saturdays, certain messages, left before noon, if they contain sufficient details, may be processed before the next business day, based on availability.)
Closed Sunday
* During support hours, if a representative is not immediately available, you may be prompted to leave a message, so a representative, once available, may return your call. If you are prompted to leave a message, please do so.
* If you leave a message, be sure to leave details. Leaving a message that asks our support representative to "just call you back" makes it difficult for us to prioritize the call. If you leave enough detail in your message, we can often quickly send you an email to answer your question, which gets you a response much more quickly than waiting for a call back.
Due to a telephone company outage, our office phone lines are currently down.  As a result, you may not be able to reach our office by telephone.  Until this is resolved, please e-mail support any inquiries.
Update 11:30am:  The telephone company has estimated repairs will not be completed until after 1:00pm.
Update 12:00pm:  Phone service has been restored.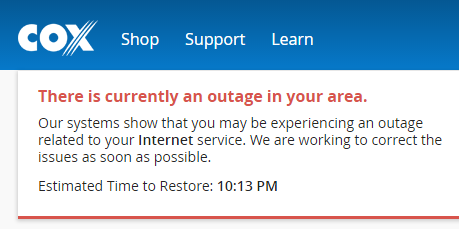 Widomaker's services are all up and running, at the present time. However, some folks who use Cox Communications for their Internet connection, in Hampton Roads, may be experiencing an Internet outage affecting their ability to open websites or check e-mail.
Our offices and phone support will be closed on, Tuesday, July 4th, 2017.  We will resume our normal hours on July 5th.  All systems will remain monitored during the holiday.
Have a safe and fun weekend 🙂
Widomaker's phone support and office will be closed for Memorial Day, Monday May 29, 2017.
Normal hours will resume on Tuesday, May 30th.
Has your Internet speed suddenly become unusually slow? Have you asked your Internet provider to test your connection, but found no connection issues? One of the apps, on one of your devices (computers, smartphones, tablets, etc.), may be consuming all of your available Internet upload or download bandwidth.
(Updates added to the bottom of article)
DSL users may find that their Internet connection seems much slower once they have upgraded a computer to Windows 10, or purchased a new computer with Windows 10. This may be due to Windows 10 downloading updates or sharing updates using what Microsoft calls Windows Update Delivery Optimization.
There is, as of 3/16/2017, a known issue affecting some Dial-up Internet access users. This issue only affects Dial-up users. All other services, including Broadband DSL, are unaffected. Our dial-up carrier partner has provided the following update: