Administrator
Please note, some DSL customers in the Wmbg/NN/Norfolk areas may be having trouble getting connected to the internet. The common error message is 738 "The server did not assign an address". We are aware of the problem and working with the Network Engineers to resolve this as quick as possible, In most cases, the connection will get establish after a few attempts So please keep trying until this problem is resolved.
11/1/10 11:25a: No ETR as of yet. Have been told that Network Engineers are working the trouble.
11/1/10 2:08p: Possible Hardware failure in phone company network. As soon as we get an update with will let you know.
11/1/10 6:30p: No new information. Phone company ticket is still being worked in the Norfolk area.
11/2/10 7:05a: Phone company worked through the night and problem is still not resolved. At this time there is still no ETR.
11/2/10 2:30p: Problem has now been escalated to the Verizon IPNOC who run the routers and is currently working with them on the issue.
11/2/10 7:00p: Verizon has located the failing hardware that has been causing DSL customers from logging on to the internet. We have been told that they will attempt to migrate all customers to backup equipment while the failing hardware is fixed. Based on the size of this outage, this migration will take some time. Verizon has not provided an ETR of completion. Widomaker does have technicians available to assist with this migration. As this problem is out of Widomaker's control, we are doing everything we can to get this problem resolved as quickly as possible.
11/3/10 1:00p: Service is restored. If you are still having problems, be sure to turn your DSL modem and/or Router of for 10sec and then turn them back on. Also rebooting your computer will help.
This is a quick message to keep you updated on several happenings here at Widomaker…
1.) Faster Internet Speeds for your Home and Business
2.) Stay up-to-date with system news & Network status
3.) NEW! BusinessLink Cable Internet for your Business
4.) Be aware of other Internet deals!
5.) Want to cut the cord?
[12:01pm] Some users may be seeing slow internet speeds or not able to surf at all. The phone company is aware of this problem and are working to get it fixed as quick as possible. At this time there is no ETR. We will keep everyone posted once we get more info.
[1:57pm] Service was restored!
[3:20pm] Around 1:15pm we started to get reports of no internet access. It seems that there was an accident around the Williamsburg Area Transit station that has caused this outage along with phone line troubles. At this time we have no ETR.
[4:52pm] Phone company repair has restored service to 80%.
[6:10pm] Some customers may still have problems. Est. time for repair is 6am Wed. due to a OC-192 Fiber-Cut around the Busch Gardens area. Techs are on-site and moving forward on repairs.
More info can be found on this outage via VaGazette Website.
Some users may be seeing slow internet speeds or not able to surf at all. The phone company is aware of this problem and are working to get it fixed as quick as possible.
Update 6/7/10 1:35pm: Phone company has a network switch problem that is effecting DSL and phone service. At this time there is no ETR. We will keep everyone posted.
As of Feb 1, at 1pm – Va Power is replacing power to our call center. But have been told it could be another 6-8hr before power has been restored due to the winter storm. Support staff is checking voicemail from a remote location until we loose power to our phone system. You may also send us email and someone will reply as soon as possible. We do apologize for the inconvenience.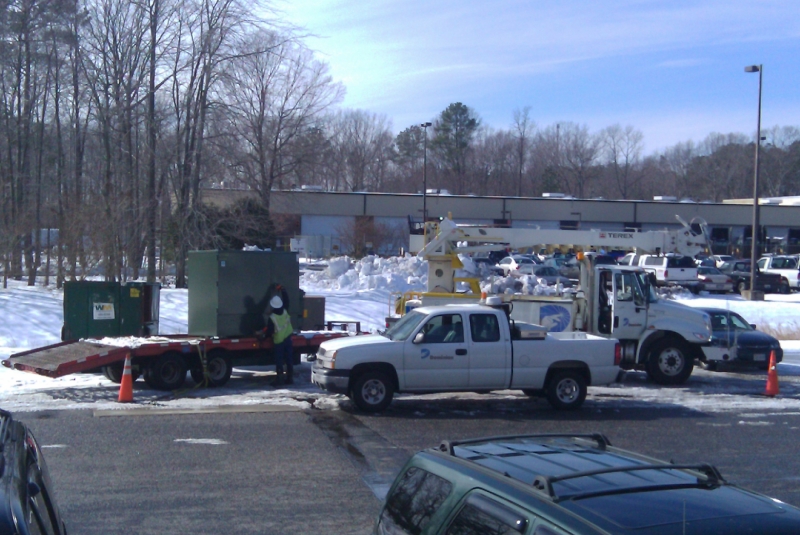 Update 2:45pm – Remote phone system is down do to power outage. Voicemail is still working. Please feel free to leave a message or send email to techdesk @ widomaker.com. Not sure how much longer voicemail will stay up on backups.
Update 6:30pm – Voicemail and phone system lost power. The only way to get a hold of us now is via email. We will keep this blog updated.
Update 7:30pm – Phones and power restored
We are please to announce a new service for our businesses. Widomaker now offers basic website design. Our preferred platform for development is WordPress. WordPress started as just a blogging system, but has evolved to be used as full content management system and so much more through the thousands of plugins. WordPress is limited only by your imagination and we can help you bring your vision to life. For more information, please visit http://www.widomaker.com/basic-web-design.html
Wido-Sat Xtreme offers high speed internet satellite technology to download data at broadband speed to all contiguous 48 states. Wido-Sat Xtreme systems can be installed in a matter of hours.
We believe our hybrid technology provides a better experience to internet users because of the simplicity of our system. Whereas others in the satellite business rely on complex and expensive two-way transmission equipment, we believe that utilizing your telephone line as a request path to the internet affords us these advantages:
Our exclusive modem/router combo utilizes the 2nd generation DVB-S2 satellite modulation standard, providing 30% more efficiency than earlier modems or quirky PCI cards. Click here for more information.
Standalone Broadband is now available. With eighteen percent of homes with no landlines, and another thirteen percent of them have landlines but don't use them. This means that a total of 30% of home customers don't have or don't want an old fashioned POTs (plain old telephone service) line.
Widomaker now offers Standalone Broadband. What this means is that you do not have to have Phone service or Cable service to get Broadband from us. We install the Highspeed line on what we call a dry-loop circuit.
This new dedicated line is a DATA only line. This allows customers to use alternative Phone service such as VoIP or no voice service at all!
The nice thing about Standalone Broadband, is that there are no extra monthly costs! Most of our Highspeed Broadband plans support this new Standalone option. Feel free to contact a sales member for more information.
Phishing is the act of sending fake, misleading, or fraudulent messages in an attempt to trick recipients into providing personal information.